There will be 46 comfortable and reasonably priced rental apartments in Puustellinkallio, Leppävaara, Espoo, close to the services of the Sello shopping center and excellent transport connections. The apartments on Kiannonkatu are new apartment buildings built for modern needs.
A-Kruunu's Kiannonkatu site has one apartment building with two staircases, one on the 5th floor and the other on the 6th floor, as well as a basement. The apartments are 29.0–82.5 m2 in size and the housing types are 1–4 h + kt. Each apartment has either a glazed balcony or a French balcony. The common areas have a laundry room, a club room and a sauna section.
Puustellinkallio is part of Leppävaara, but still a unique area surrounded by green areas, close to services and connections, Leppävaara Sports Park and the indoor swimming pool. The upcoming Railroad Joker station will also be within walking distance. There are parking spaces for motorists in the parking garage. In general, the Puustellinmäki area is uniform, the facades will be made of brick. Puustellinkallio is named after the wooden, crown office building on the hill, and according to research, the area has been inhabited for 900 years.
Smoking is prohibited in the apartments, on the balconies and in other indoor areas within the property. The rent includes broadband access. Water bills are calculated according to the amount used. Car parking spaces are available for rent. Pets are welcome.
Basic Information
| | |
| --- | --- |
| Address: | Kiannonkatu 18, 02650 Espoo |
| Neighborhood: | Leppävaara |
| Type: | Block of flats |
| Apartment sizes: | 1 to 4 rooms + kitchenette |
| Floor area: | 29,0 – 82,5 m² |
| Number of apartments: | 46 |
| Completion: | 11/2022 (estimate) |
| Brochure: | View brochure (FI) |
The application period for the location is 16 August to 28 August 2022. After this, applications for the location will be received on an on-going basis. We will be in contact with the recipients of the housing offer by e-mail no later than 17 October 2022. We are not able to inform all applicants about the choices, we are only in contact with those applicants for whom we are able to provide housing. Please note that we will not respond to enquiries about the application situation during the resident selection period.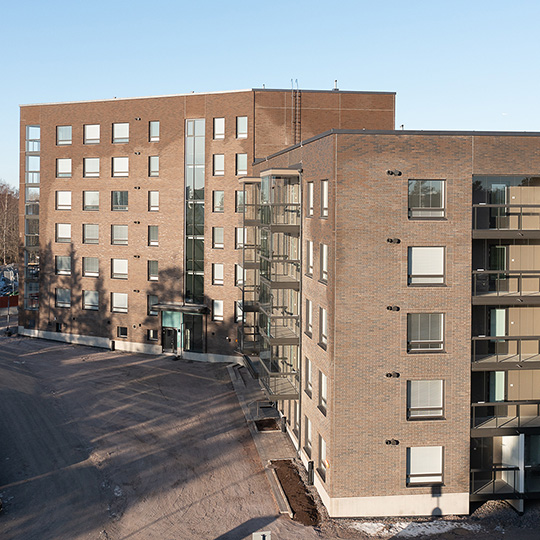 Estimated distances from
| | |
| --- | --- |
| Ammattiopisto Live, Arlan toimipaikka | 100 m |
| Bussipysäkki Turuntie | n. 300 m |
| Postipuun päiväkoti | 300 m |
| Postipuun koulu | 400 m |
| Leppävaaran terveysasema | 700 m |
| Leppävaaran juna-asema | 700 m |
| Kauppakeskus Galleria | 800 m |
| Kauppakeskus Sello, kirjasto ja Sellosali | 800 m |
| Mäkkylän juna-asema | 850 m |
| Vermo | 900 m |
| Talin frisbeegolfpuisto | 1,4 km |
| Leppävaaran uimahalli ja maauimala | 1,4 km |
| Golf-range Leppävaara | 1,5 km |
| Leppävaaran urheilupuisto | 1,5 km |
| Kilon talli | 1,9 km |